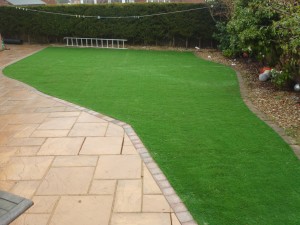 Our comprehensive landscaping service spans artificial turf, hardwood decking, to stone patios and terraces to water features and irrigation and driveways.
We have an excellent knowledge of suppliers so our clients can be confident that the appropriate products and materials are being sourced. Where required, we can also draw upon specific craftsmen and specialists to provide the highest quality service.

Walk onto a Grono artificial grass lawn and feel the difference. It looks just like grass, plus it's both practical and beautiful at the same time – but better than that, you'll never have to do any of the hard work normally associated with having a lovely lawn.
We are approved Grono Artificial Lawn installers.